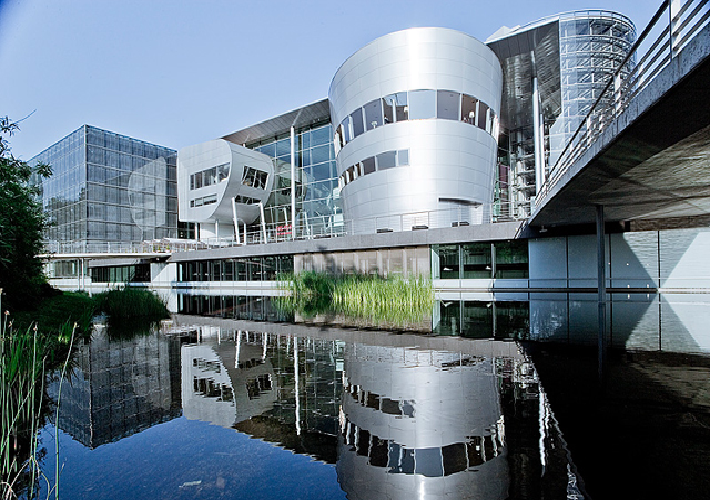 The term factories and beautiful doesn't seem to go hand in hand right? But yes, appearances are surely deceiving. Who would have imagined inside those beautifully sculpted architectural buildings, a factory is functioning. These 25 buildings break the age-old concept of a rusty, blackened, dusty, old factory images we have had since childhood. Now, if factories look like this, then I guess one wouldn't mind going for a trip to a factory! Recently Chennai architects conducted a search on the best factory design in the world. Their findings also coincide with the search conducted by forbes.com on the same topic, and the results are here.
The beauty of factories was measured considering several factors like clear distinctive design features, won an award for aesthetics and of course went way ahead of the usual need of the factory. Here are the 25 beauties:
1.Van Nelle Factory, Rotterdam, Netherlands
This factory was built in the year 1925 by architects Johannes Brinkman and Leendert van der Vlugt. This consists of a series of interconnected buildings which gets light from the natural light flowing through its distinctively designed windows. Experts consider this building as the way ahead of its time in architecture and design. The idea of providing customers with ample natural light through specially designed windows gave the factory the nickname ''poem in steel and glass". Even when Rotterdam was bombed in World War II, Van Nelle survived the explosion and Nelle was named World Heritage Site in 2014
2.Volkswagen's Transparent Factory, Dresden, Germany
This was built in the year 2002 by Architect Gunter Henn. The major aspect of this factory is, as the name itself denotes, a major part of its exteriors were made of glasses so that visitors can view part of the production process through it. It symbolically refers to the company's transparency in production and open minded approach.
3. Aerzen Green Building, Coatesville, PA, USA
This factory was built in the year 2008 by RE: Vision Architecture. Aerzen bags the position of first Gold LEED certified manufacturing plant in Pennsylvania. This is the greatest environmental privilege a building can receive. The building relies completely on solar energy. Sunlight sweeps through factory and offices. Here walls are made with plastered straw bales and the building is surrounded by carefully restored wild meadow. It also has a rooftop garden with water recycling facility.
4.GreenHouse Facility, Holland, MI, USA
This was built by architects William McDonough and Partners in the year 1995. The beauty of this building is that it was planned to fit into the landscape as naturally as a tree would stand there. Sheer windows were provided to receive consistent daylight all through the structure. The most desirable part of the building is The Street, a hall that runs through the entire building, connecting all offices and manufacturing units together.
5.Oliser Olive Oil Factory, Santiago, Chile
Guillermo Hevia Architects built it in the year 2009. Here distinctive brown panels sync beautifully with the desert like environment outside. The stark yard is lined with wood columns. This olive oil factory has the unique property of being rustic and futuristic at the same time. The structure is made of concrete structure coated with wood and glass. Another unique quality is that the entire structure including the factory materials is fully made of biodegradable materials.
6.BMW Central Building, Leipzig, Germany
This was built in the year 2005 by architects Zaha Hadid. Here BMW stuck to the traditions and traditional united office and traditional factory together into one complex. This building inter-wines factory with office and improves the business. Here the employees can see manufacturing process going on in the bottom floor through sheer windows.
7.McLaren Technology Centre, Woking
Foster and Partners built this in the year 2004. This building spreads through the sides of a lake in the shape of letter S. The height of the building was lowered intentionally so that visitors can see the trees over the top of the building. Originally it was designed as an office. But later it was doubled in size to include production space for automobiles. The interior is very large, that it could hold nine Boeing 747 jumbo jets.
8.FRABA sp.z.o.o. , Slubice, Poland
This was made by Joerg Leeser, with BEL in the year 2006. This building is actually a prototype that has been created in the same image all around the globe. Triangular skylight domes cover the ceiling. Thus daylight provides the light required for the daytime.
9.Vysota 239 Plant, Chelyabinsk, Russia
This was built in the year 2010 by Design Studio E-nporpaMMa. Here the walls are lined with brilliant colors. This more looks like the part of an amusement park, but in reality, it's a pipe rolling factory.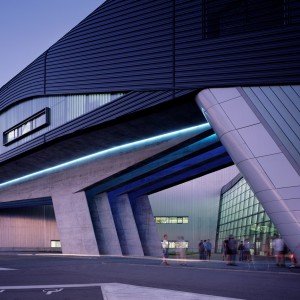 10.Anchor Brewing, San Francisco, CA
This was built in the year 1937 by Richard Elmore. This factory gives the feel of a fairy tale, with wood paneled walls, amber -gold brewing vats and rustic, spiral staircases.
11.NPO Energomash Plant, Khimki, Russia
It is unknown who had built this unusually beautiful building and when was it built. The ground smokes up with fog, the walls curve and holds dials, nozzles, tangled metalworks that surprisingly vanishes round the bend. This top secret rocket factory is just amazing making it unrealistically beautiful. Pictures are forbidden inside this place but once an adventurous photographer Lana Sator snuck inside and clicked some pics. This plant belongs to NPO Energomash, leading manufacturer of military grade liquid propellant rocket engines.
12.Louisville Slugger Factory, Louisville, KY, USA
This was built in the year 1996 by Strada LLC. This is one of the country's oldest and best-known baseball equipment manufacturers. The factory has a side by side museum in the same building that pays tribute to legendary athletes in this field. The structure has a big baseball bat in front of it that is free standing.
13.Siemens Electrical Plant, Hamburg, Germany
This factory was built in the year 1989 by KSP Jurgen Engel Architekten. This Siemens factory was the winner of 2007, ''Best Factory in Europe" award. This electronics factory looks like the inside of a clock working.
14.Anheuser-Busch, Newark, NJ, USA
This factory was built by Harley, Ellington and Day in the year 1996. In this, a maze of well polished wooden steps and beautifully painted white railings leads to a brewing floor. This looks more like a library and less like a factory. The brewery gets its power from solar panels on the roof.
15.Guiness Brewery, Ireland
This was built in the year 1904 by some unknown architects. Guiness beer is an international icon by itself. Now when the factory is also aesthetically first class, it just makes it the perfect destination for the world to come and revel in its beauty and taste some first class beer as well.
16.Lockheed Martin Factory at the United States Air Force Plant 4, Fort Worth, TX, USA
Some unknown architect also builds this one in the year 1940. This plant includes 8 million square feet industrial space, where the world's most advanced fighter jet production takes place.
17.Rioglass Solar Construction Plant, Lena, Spain
D.Villanueva Arquitectos built this factory in the year 2008. It is located on the Atlantic Coastal hills of Spain covered up with lush green vegetation. Inside the factory, there is no particular distinction between factory space and office space, thus promoting cooperation among the workers.
18.Bang and Olufsen, Struer, Denmark
KHR Architects built this in the year 2008. This factory has an artistic interior and looks like two elevated rectangles facing each other across a lengthy courtyard. They are the world's oldest production units of Hifi, Audio, TV, and other electronics.
19.Paykar Bonyan Panel Factory, Tehran, Iran
This was built by ARAD( Architectural Research and Design) in the year 2006. It is a 3700 square meter open space and 350 square meter mezzanine over the production floor.
20.Boeing Manufacturing Site, Everett, WA, USA
This was built in the year 1967 by unknown architects. Boeing produces some of the world's largest jetliners. The production floor is a maze of moving jet pieces and workers, centered by a large frame of single aircraft production space.
21. Aston Martin, Gaydon, Warwickshire, UK
The Rolton Group built this in the year 2003. Here the warehouse is a mirror of the cars it produces. All the walls and tables are white in color. All the mechanics and designers are also dressed up in white.
22.Nestle Factory, Brazil
METRO Arquitetos built this in the year 2011. This comprises of two towering red spires made of glass stand head held high on plain, rural Brazil. The towers are an extra addition to the chocolate factory, which accommodates both workers and visitors, thus controlling the traffic flow.
23.Yenidze Cigarette Factory, Dresden, Germany
This was built in 1909 by Martin Hammitzsch. This looks more like a mosque and less like a cigarette factory. Hence it is called Tobacco Mosque. The design is due to the unusual codes in the city which prohibited any creation to look like a factory.
24.Shell Factory, Germany
Built by an unknown architect in the year 2007, this plant is home to Shell Nanhai, subsidiary of Royal Dutch Shell, the oil giant. The plant produces its electricity and contains an efficient system for managing waste.
25.Intel's Fab32, Semiconductor Manufacturing Plant, Chandler, AZ, USA
Unknown architects built this in 2007, this one covers up one million square feet area. The main feature of the plant is it is rated as Class 10 clean room which means ten or fewer particles are measuring 0.5 microns or larger per 1 cubic foot of air.